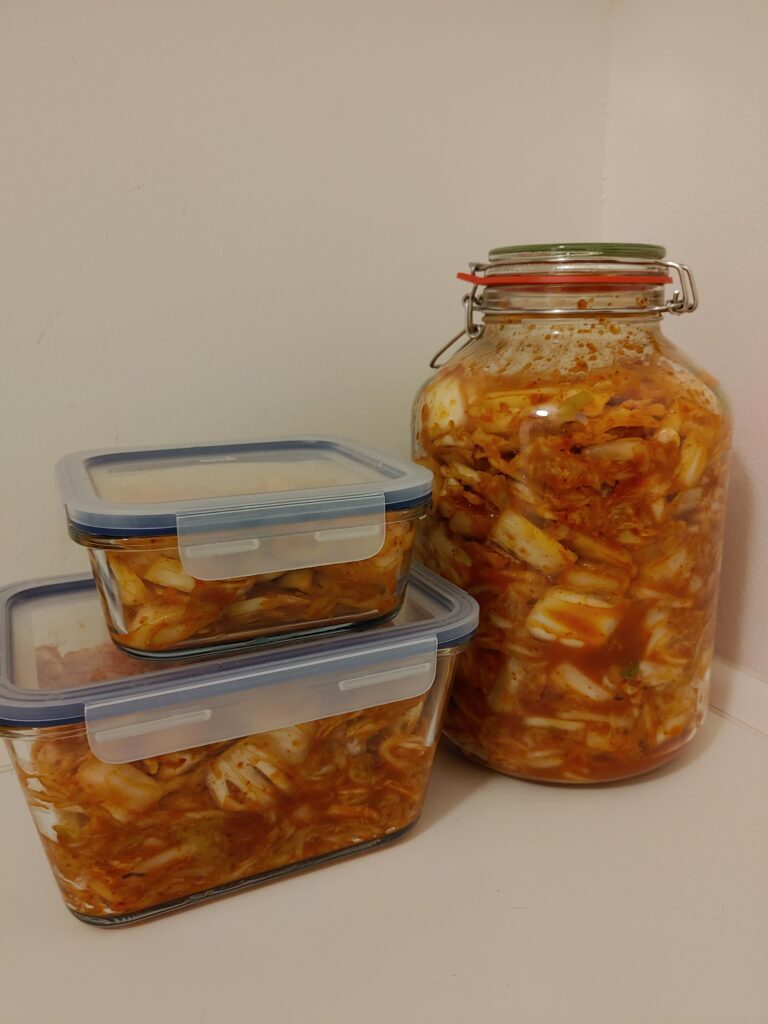 [재료]
배추 2-3포기
빨간무 1꾸러미 (8-9개쯤)
파 4개
굵은 바다 소금 5-6줌 (요오드/아이오딘 없는 걸로)
김치 양념

마늘 15쪽
생강 엄지손가락 길이 정도
서양배 1/2개
작은 양파 2개
액젓 400ml
고춧가루 4-5줌
찬밥 3숟갈
[조리과정]
무와 배추를 5시간 이상 소금물에 절인다(배추를 구부리면 잘 구부러지다가 마지막에 부러지는 정도로. 아주 절인 것보다 조금 덜 절인 것이 더 나음).
마늘+생강+배+양파+액젓+찬밥을 모두 넣고 믹서기에 간 후에 고춧가루를 넣고 잘 섞어서 김치 양념을 미리 준비해 놓는다.
배추가 다 절여지면 2-3번 찬물에 헹군 뒤에 채반에 놓고 물기를 쫙 뺀다. 여기서 물기를 잘 빼야 된다.
배추에 김치 양념을 넣고 잘 섞어 준다. 이때 파도 썰어 넣어 준다.
하루 동안 그늘진 곳에서 상온에 보관한 뒤 냉장고에 넣는다. 일주일 정도 후부터 먹으면 맛있다. 유리병에 보관할 경우 이따금씩 공기를 통하게 해 주는 것이 좋다고 함.
---
2-3 cabbages
1 bunch of red radish (8-9 in one bunch)
4 spring onion
5-6 fistful of sea salt (without iodine)
15 cloves of garlic
1 ginger (length of your thumb)
1/2 pear
2 small onion
400ml Korean fish sauce
4-5 fistful of Korean chili pepper flakes
3 tablespoons of cold rice -short round rice-
<Vegetables preparation>
1) Cut the cabbages and radish into pieces.
2) Soak each piece in cold water and sprinkle salt over.
3) Every 1 hour, turn the cabbage over to salt evenly. Set it aside for 5 hours (it can take longer time in winter and shorter time in summer).
4) Rinse the salted cabbage and radish with cold water 2-3 times.
5) Let it drain using a colander for 30 mins.
<Kimchi paste preparation>
6) Blend all things (garlic+ginger+onion+fish sauce+cold rice) using blender, and then mix it well with Korean chili pepper flakes.
<Mix>
7) Put the kimchi paste in a large basin and add all the cabbage and sliced spring onion (I use whole white part and some of green part)
8) Mix thoroughly by hand. Using gloves are highly recommended for your beautiful hands.
<Finish>
9) Put the kimchi into a glass jar. Leave some space at the top before you close it.
10) Wait until it's well fermented. Open the jar sometimes so that the air will not be stuck.
Store it at room temperature in a shady place, then move it to a fridge. It will be ready in a week.
*If you don't use Korean fish sauce, you will need different amount of that sauce.
*Step 3: How long should I leave cabbages into the salty water?
Try the 'bend' test on thickest part of cabbage to see if it is pickled. It's better to aim at some point that it is flexible/bendable and not so easily breakable, but still breakable.
*Step 4: After you rinse the cabbages, taste it. Cabbages shouldn't be too salty. It's better to have less salty flavor at this moment.
*Step 5: If you don't drain properly, you will have too watery kimchi at the end.